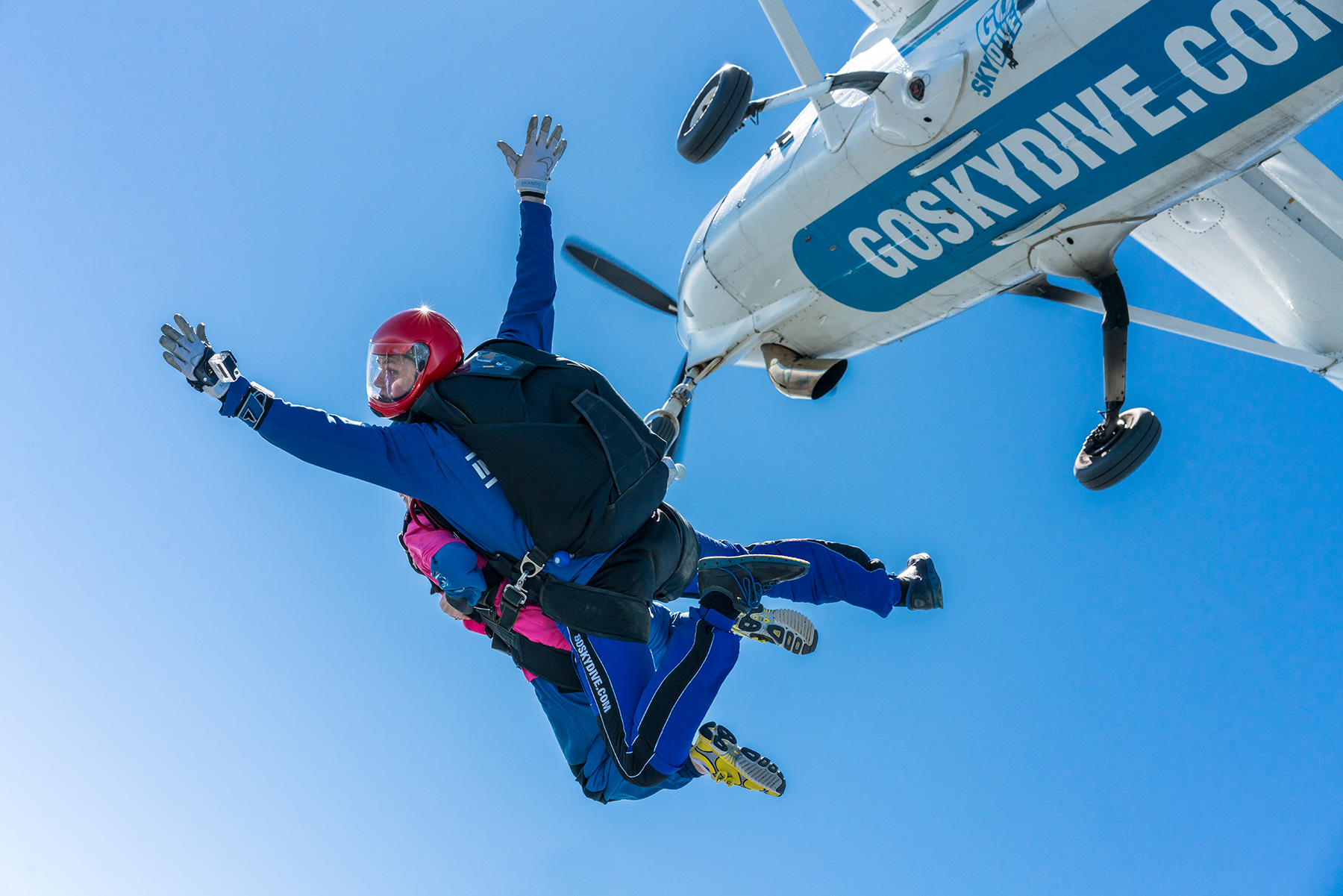 6 things that make a great drop zone
21 Jan 2020
Skydiving is an amazing opportunity for you to face your fears and do something thats truly amazing. Picking the right dropzone can be difficult. Here are 6 things to look for when choosing where to do your tandem skydive.
#1 A Convenient Location: When choosing your drop zone, you really want this to be easy to find and located within reach of main roads. You also want to be able to park your car close enough to the centre and ideally without needing to spend a fortune for it. A good drop zone should also offer the option of food and drink for purchase, especially if you should have family or friends joining you. Our centre is well signed posted and easy to reach, located in Old Sarum Airfield, just off the A303, the main arterial road that connects the South-East and West countries. We have extensive off-street car parking and an onsite café opened from 8am in the morning, serving hot and cold food. A five minutes' walk away is also a small shop with free cash withdrawal facilities. If the weather is kind, there is a swing park 5 minutes' walk away, alternatively a newly opened Jumpin-Fun inflatable theme park is only 10 minutes' walk away; both will keep your little ones entertained if there are weather delays.
#2 Offers a Perfect Day Out: Whether you're travelling from far away or live nearby, you'll probably have taken the day off to join us for your skydive experience. So if your time here with us leaves you with the rest of the day to enjoy, you'll be happy to know that there are several places you could visit and things to do which are at easy and quick reach from our drop zone. Travelling to our site provides the perfect opportunity to include a visit to the historically important medieval market city of Salisbury, which featured in the Lonely Planet's top cities, only 5 minutes by car. Also, only 15 minutes away, is the Prehistorical World Heritage site of Stonehenge; both can be easily reached by public transport. These are only a few of the places that you could visit: for more ideas of how to make it a day out have a look here.
#3 An Amazing View: A big reason to jump out of a plane is to enjoy the spectacular views from above. Different from taking a flying lesson, where most of the time you'll be concentrating on controlling the flight, tandem skydiving has the added benefit that you won't need to worry about anything during both free falling and when under the canopy. Whist your tandem instructor will be dealing with the all important safety and operational procedures, you can literally take it all in and just immerse yourself in the moment. A great drop zone is then ideally situated in an area of natural beauty, where the epic views can be most enjoyed at the highest of options, which is 15,000ft. Here at Goskydive we feel truly lucky to be able to offer you up to 1 minute of free fall time and 5 minutes under the canopy of breath-taking views over the Woodford Valley, the Iron Age Hill Fort of Old Sarum and the city of Salisbury. With good visibility days, the views even include the coast line and the Isle of Wight. All four seasons offer spectacular sceneries: last February's snow made our Wiltshire country side a winter wonderland. Spring and summer times bring the patchwork of green and yellows from the rapeseed fields, to the golds of the barley crops. Whilst the autumn's foliage colour the landscape of dazzling multi-toned oranges and browns.
#4 Number of Jumps: When choosing the drop zone to do your tandem skydive from you'll be wanting to be sure that the centre has been operating for a considerable amount of time, during which a high number of tandem jumps have been completed. In other words you want to ensure that all the staff are extensively trained and experienced in every aspect of what they do. Our drop zone has the highest number of tandem jumps: Since opening in 2008 our skydive centre has achieved over 50,000 tandem jumps. We are extremely thorough in our pre-jump training and are the only centre that has it all covered, from showing videos and induction talks, to providing hanging harness simulation training. This last feature is unique to our drop zone (no other skydiving company in the world has it!) and it allows each customer to give the all-important exit, free fall and landing positions a go ahead of time.
#5 A Fully Qualified and Highly Experienced Team: All our staff are employed full time. We have the worlds only Tandem Instructor Skydive Apprenticeship scheme which has won many awards. All skydive ratings and licences coming from the governing body 'British Skydiving' itself. The scheme has been designed by GoSkydive founder and British Skydiving Councillor Gordon Blamire, and one of its major areas of focus is customer excellence. This means that all our staff, particularly our skydive instructors, are not only technically qualified, but have a natural ability for dealing extremely well with all the range of emotions that first time skydiving naturally brings. Our instructors are especially used to helping very nervous customers overcome their fear. Every element of the customer journey, leading up to the skydive experience is planned and delivered as thoughtfully as the jump itself. This customer-centred approach has made GoSkydive the UK's only specialist Tandem Skydiving centre for those jumping for the first time.
#6 A Brilliant Reputation: If you, like many of us, like to find out what others have to say about the hotel or restaurant you're about to book, especially if this happens to be a gift, then you'll no doubt want to do the same before booking a skydive experience. Check out our reviews, that you couldn't be in better hands. Our TripAdvisor, Google and Facebook feedback puts us first for safety, customer service, professionalism and friendliness.