About Abbys Heroes
Who We Are:
We are a small local Hampshire based children's cancer charity Abby's Heroes was set up in the memory of Abby Randall. Abby was diagnosed with Ewing's Sarcoma, a rare type of bone cancer, in 2013 aged 8 years and 10 months. During her fight, Abby had 23 rounds of chemotherapy, 50 days of radiotherapy, stem cell harvesting, scans, cannulas, drains, intensive care stays and pioneering surgery, to remove the tumour from her clavicle and replace the missing bone with her second toe and main metatarsal from her right foot. In May 2014, Abby was officially declared in remission and spent 6 carefree months getting back to school and back to her beloved dancing. The day after Christmas, 2014, Abby's cancer returned. Despite a truly awe-inspiring fight she lost her battle on May 29th 2016.
What We Do:
Our charity supports children and their families receiving cancer treatment at Piam Brown Ward or the Teenage and Young Adult Unit at University Hospital Southampton, the Regional Centre for Paediatric Oncology and Haematology from the Wessex Region (which includes Hampshire and the Isle of Wight, Dorset, Wiltshire, Surrey, West Sussex and the Channel Islands). All children living in these areas will receive some or all of their treatment at Southampton depending on the type of cancer and their treatment regime. Children may be in hospital for many weeks, if not months, receiving treatment.
Why We Need You:
When a child is diagnosed with cancer, it has massive financial repercussions on the parents as often one or both parents need to give up work or take unpaid leave to care for their sick child. On average families spend an additional £600 per month when their child is diagnosed with cancer (CANC£R COSTS: CLIC Sargent 2016) To assist with this, Abby's Heroes supports families when their child is on treatment by awarding financial hardship grants to help relieve the poverty parents find themselves facing as a result of their child's diagnosis. These grants can be for a host of reasons such as rent or mortgage payments, household bills and other everyday living costs while the child is in hospital, additional travel costs to hospital or sadly help towards funeral costs.
Jump Dates
Choose a pre-booked jump date:
Abbys Heroes has no pre-booked jump days. You can still jump on a date of your choosing.
Choose your own jump date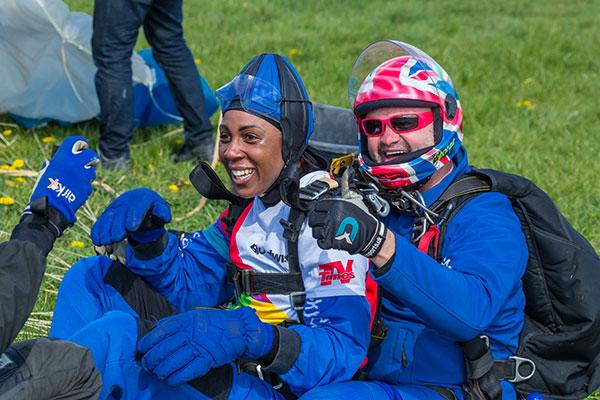 Fundraising
Raising money for your tandem skydive via an online fundraising page makes it quick and simple for your friends and family to support you. You can share the link to your fundraising page via your social media pages and through texts and emails. If you haven't done so already click through now and set-up your page or check out our Fundraising Ideas page to help you get the most out of your Charity Skydive.
How it works
Booking a charity jump
If you need help putting together your jump package, our Sales Team is more than happy to assist you. We'll ensure you get a charity discount of £25 off our 10,000ft or 15,000ft skydives when your charity is selected. Determine if your charity expects you to meet a fundraising target or if you will be self-funding the skydive.
You're all set to start fundraising once you've booked your skydive! Your charity can help you with fundraising, and we'll be available to answer any questions you have about the skydive!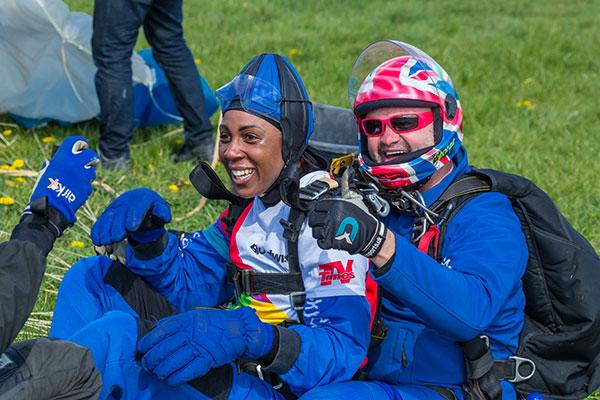 Step 1
Build your team
Skydiving is even more exhilarating when shared with friends, why not invite your friends and family and create a shared experience with memories that will last a lifetime.
Step 2
Select Your charity
Choose one of our 300 registered charities or jump in support of your own charity. Each registered charity will state if they will contribute to some of your jump cost or if you need to self-fund your own place.
Step 3
Book your Skydive
Book individually or as a group with just a £50 deposit per person. Some of the charities we work with have reserved spaces on pre-booked days that you are more than welcome to join. See our date picker tool below.
Step 4
Start fundraising
OK you're all set - We recommend you set up an online fundraising page as all funds you raise will automatically go to the charity of your choice.