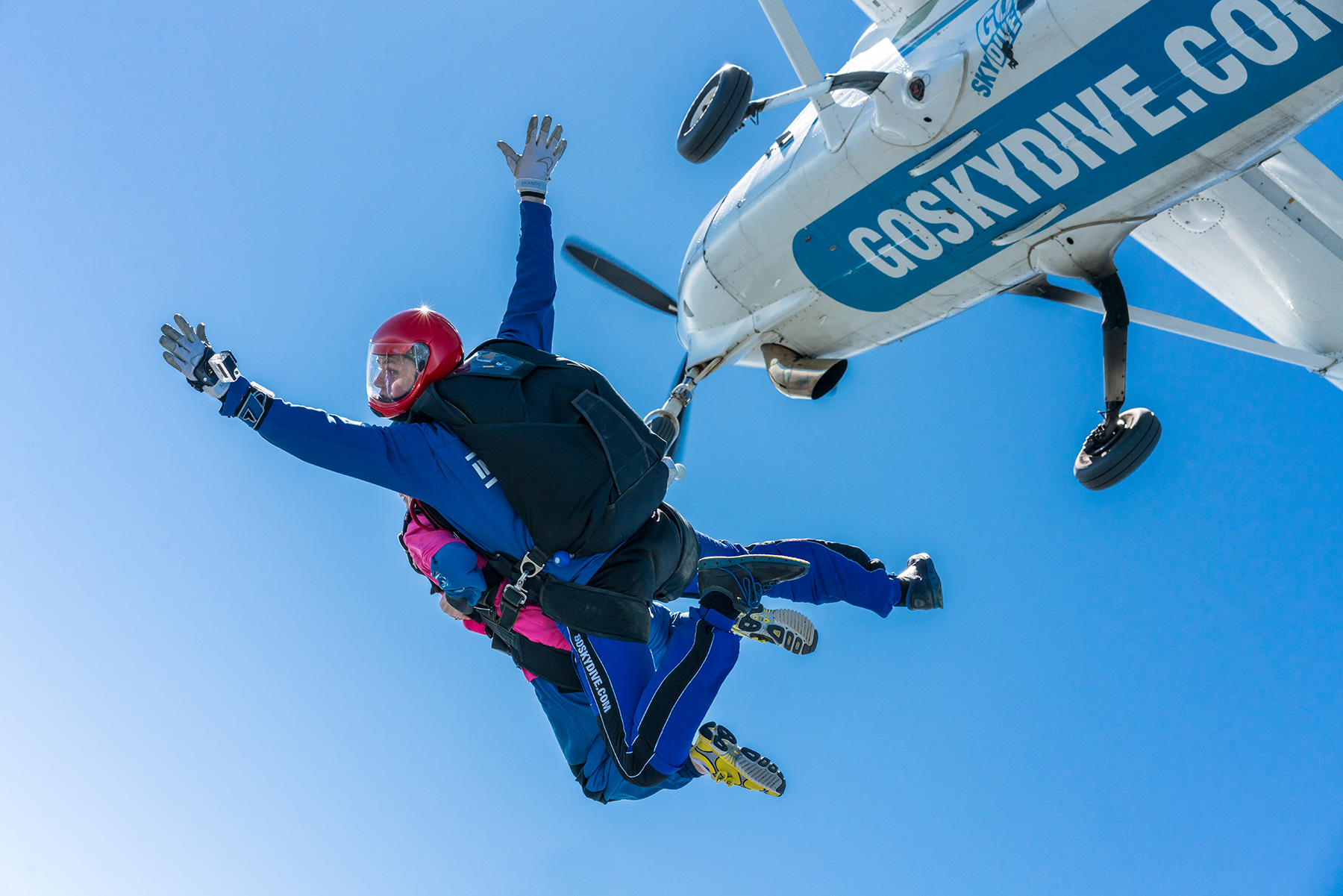 Training to be the fastest man in the world
03 Apr 2017
GoSkydive tandem skydive instructor Max Hurd has a passion for speed, freefall speed. Developed just 18 years ago, speed skydiving is the fastest non-motorized sport on Earth with the current world champion achieving a competition speed of 601.26 kmh. Max is currently ranked 3rd in the world, 2nd in the UK and the 6th fastest ever.
Max has been speed skydiving for just 4 years and in that time has improved his speed by almost 200 kmh. So with a few practice jumps, around 100 this year,  we're hoping Max can smash the UK record (531.9 kmh) in August of this year and the World Championship in October 2018. Speed Skydiving World Rankings
So how is the speed measured? Max jumps from the plane at 4000 metres, enters the recording zone at 2500 metres and he exists the zone at 1700 metres. His speed between these two points is calculated from air pressure and time data measurements captured on two barometric devices attached to his rig. Max deploys his canopy at 700 metres. During his last competition dive Max entered the recording zone at 400 kmh and his speed peaked at around 560 kmh at an altitude of 1800 metres  – this gave him an average of 522.92 kmh. That's almost 325mph, a new personal best!
GoSkydive is sponsoring Max so he will be doing all 100 of his practice jumps at the GoSkydive dropzone in Salisbury. Whilst all of Max's jumps will be done outside of customer jump times, Max is a highly experienced tandem skydive instructor and will be appearing on the dropzone throughout the year as a special guest tandem instructor jumping with customers from the UK's highest jump altitude of 15,000ft.
Pictured is Max jumping with tandem skydive student Charlotte. Charlotte is jumping from 15,000ft in aid of the charity Chestnut Tree House. By comparison to the speeds Max skydives at solo, tandem skydive customers can expect to reach speeds of 125mph during freefall.