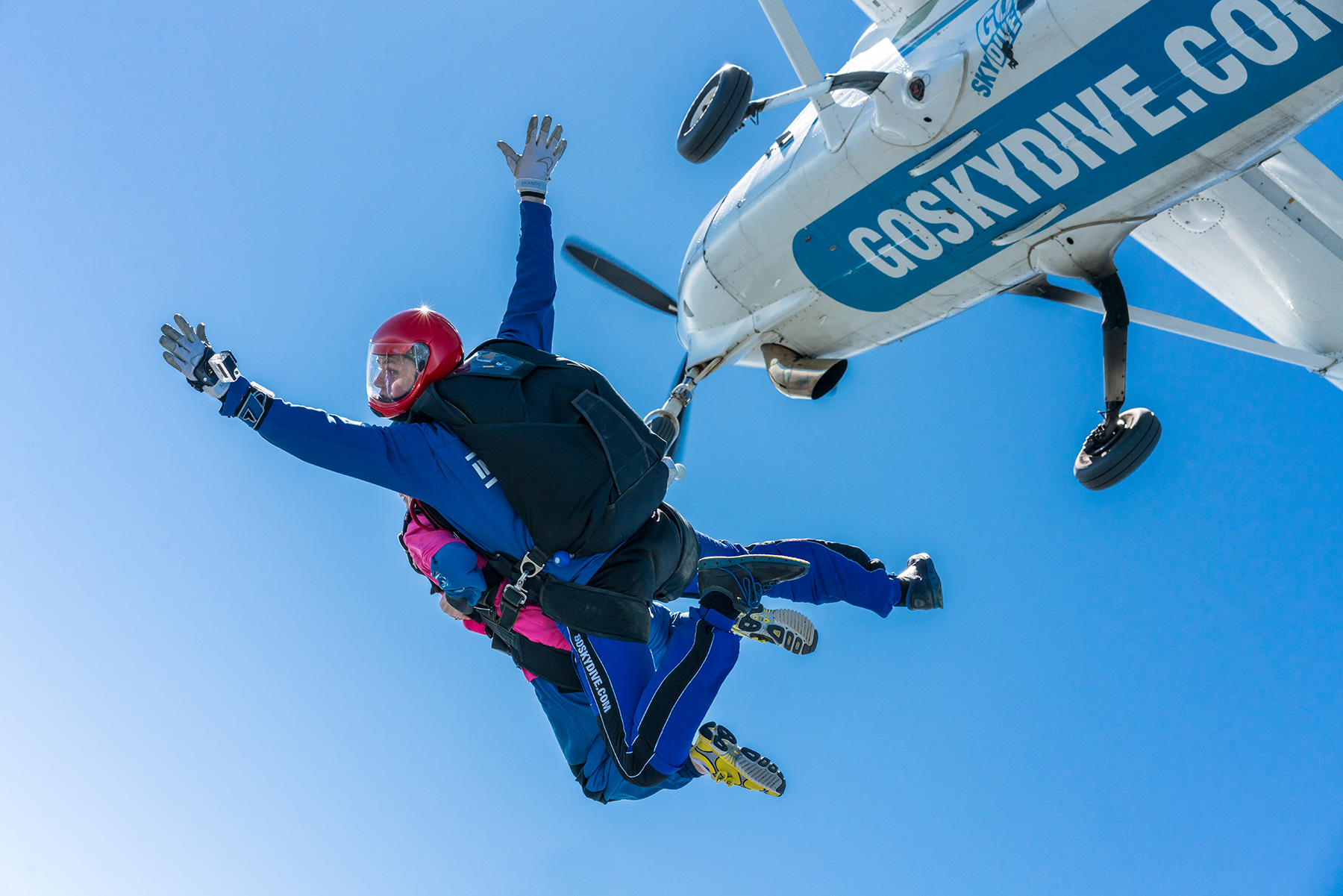 GoSkydive Apprenticeship
11 Sep 2022
THE AWARD-WINNING GOSKYDIVE APPRENTICESHIP SCHEME IS RECRUITING
Once upon a time becoming a tandem skydive instructor was only considered by the few and made a reality by even less – but all of that has now changed. GoSkydive is the UK's only specialist tandem skydiving centre for first time jumpers. The GoSkydive, Tandem Skydive Instructor Apprenticeship scheme is the first on its kind in the world with all skydive ratings and licences coming from the National Governing Body for Skydiving – British Skydiving.
Designed by GoSkydive founder and British Skydiving councillor Gordon Blamire, the scheme is a result of the year on year growth of this high adrenalin experience. For some, tandem skydiving is the very start of an interest in skydiving as a hobby and sport but for the new majority it is a once in a lifetime experience and a life changing event. That customer focus remains at the core of the GoSkydive brand and every element of the customer journey is planned and delivered with as much consideration and care as the tandem skydive itself. There is no doubt that this attention to detail is above and beyond that of any other skydiving centre in the UK so it follows that a new breed of GoSkydive tandem instructor is required.
The apprenticeship is designed to be a 2+ year programme with recruits being a qualified freefall video and stills photographer and a proficient skydiver by the end of the apprenticeship. Apprentices will be continually assessed over the programme and those who are successful will be put forward for a tandem instructors rating.
The qualifications and person skills required to be considered for the GoSkydive apprenticeship scheme can be found here.
Potential GoSkydive Tandem Skydive Instructors will not only need to be tough enough to gain the required qualifications, they will also need to demonstrate they can deal with a range of emotions that first time skydivers can bring. The reasons behind customers' jumps can vary from celebrating big birthdays, weddings or anniversaries, raising money for charity, corporate team building events or just because they are adrenaline junkies. But the common factor shared amongst all of these jumpers, is that this will be their first tandem skydive and is likely to be a once in a lifetime experience.
GoSkydive will be holding an Open Day on 25th October 2022 – to apply please email your CV to michelle@goskydive.com by 11th October.