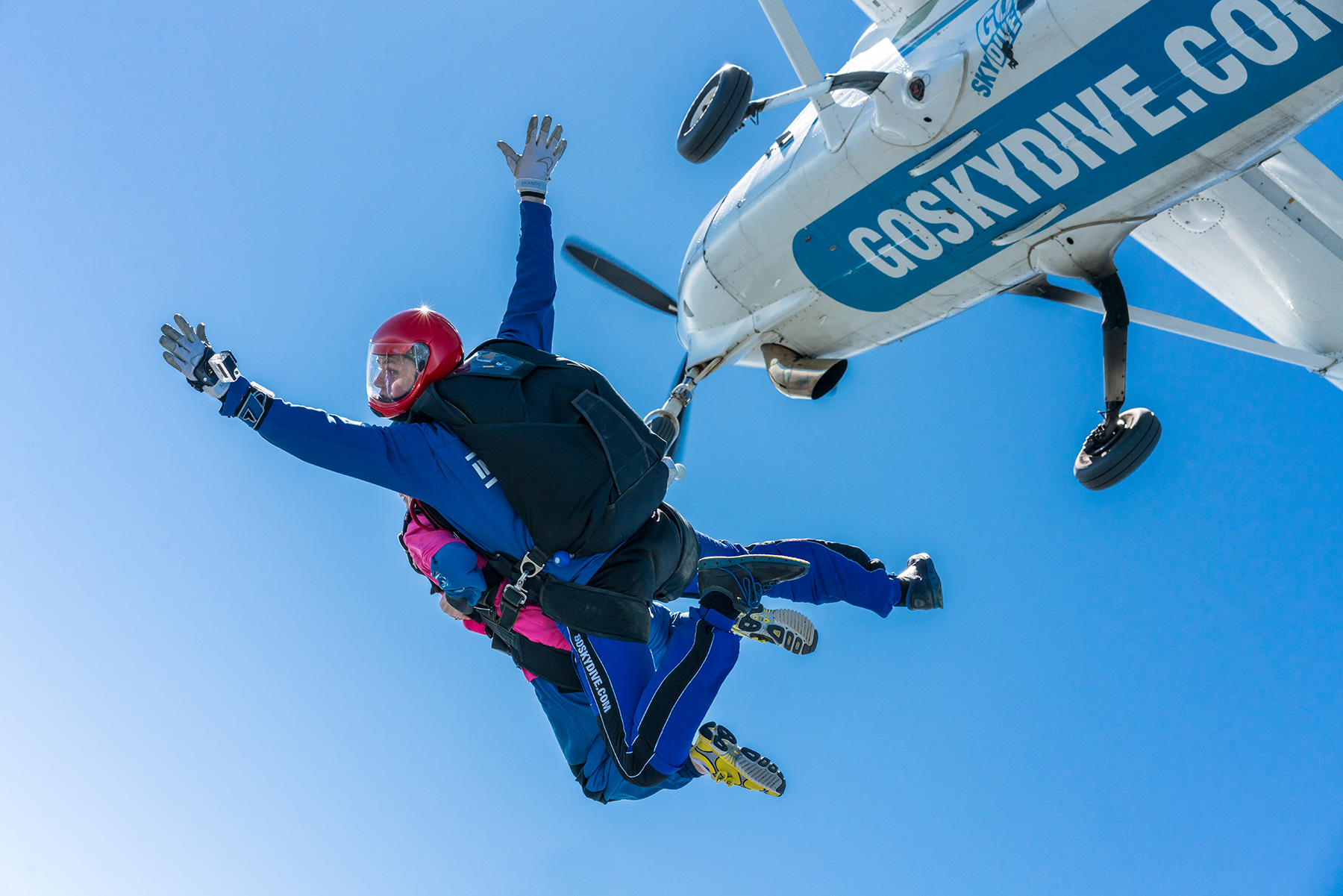 Is Skydiving a Good Experience?
04 Nov 2022
Skydiving is an exceptionally exhilarating experience for anyone looking for the ultimate thrill and an unforgettable memory. As such, we wholeheartedly believe that our range of skydiving vouchers is the perfect gift for someone whose looking for an exciting experience that will stay with them for the rest of their lives.
Our tandem skydiving experience offers absolute security and safety, combined with an unrivalled sense of adrenaline. Experience a maximum jump height of nearly 3 miles, with speeds reaching upwards of 125mph during free fall.
Nervous or unsure about skydiving? Not to worry, because our expert team of skydiving tandem masters will offer thorough specialist training within a simulated environment to help make sure that you're both ready and comfortable when it comes to the big day!
Following the completion of your training, you will be flown up to altitude in our Cessna Super Cargomaster, a refitted aircraft that is specifically tailored to our tandem skydiving experience. Within about 8-12 minutes, you will reach jumping altitude, where you can see a scenic view of the historical Wiltshire countryside.
You will freefall from a maximum altitude of either 10,000 or 15,000 ft. Reaching a velocity of 125mph, you will quickly rush to the Earth in either 30 or 60 seconds (depending on the aforementioned altitudes).
Many of our past jumpers have described our skydiving experience as being transported to another world. The sheer amount of adrenaline rushing through you as you freefall at incredible speeds is simply incomparable to anything else you've experienced before.
As you reach an altitude of 5000ft, you will begin to parachute, where your speed of descent will reduce to 30mph, allowing you to soak in the view of the great Wiltshire countryside – as well as give you a well-needed reprieve after a highly exhilarating free fall.
Following this, you and your skydiving instructor will prepare to land, where you can both celebrate a successful skydiving experience.
Skydiving is an incredible experience that offers unforgettable thrills that will stay with you for a lifetime. Not only do we offer comprehensive training, but we also offer photography and videography services for your big day, ensuring that you have a keepsake of your exciting skydive!
Overall, skydiving is a fantastic experience that we firmly believe that everyone should try at least once in their lives! This is why we also believe it would be an incredible gift to someone special – as such we offer a range of skydiving vouchers, fit for those who are looking for a taster session, to thrill seekers after the full experience.
Whatever your preference, have a look for yourself or someone else, and enjoy something unforgettable.