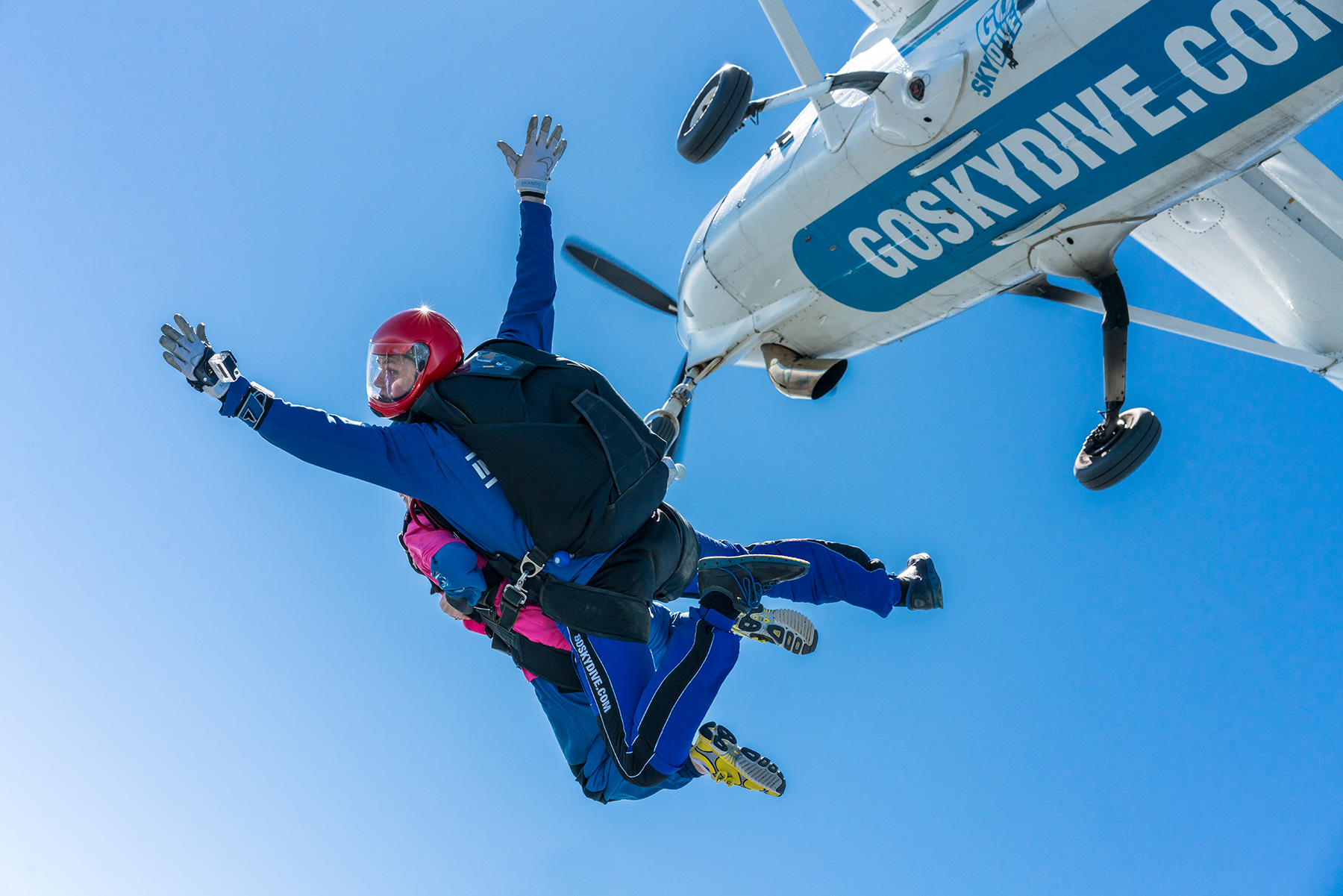 Parachuting or Skydiving?
11 Sep 2015
"What's the difference between a parachute jump and a tandem skydive?" is one of the most commonly asked questions we get asked here at Go Skydive. To clarify, every jump from our planes is a parachute jump – a tandem skydive decent ends via parachute – you definitely wouldn't want to be without one (unless you're daredevil Luke Aikins).
The skydiving part of it is all about the what you do before your experienced instructor pulls the parachute cord – the incredible freefall experience!
Beginners sometimes get confused by the different types of jumps which require different amounts of training and experience. Here's a brief description of three ways to leap out of a plane:
Tandem Skydiving:

Training:

15 mins session including simulated freefall.

Experience:
Leap and experience exhilarating free-fall from 15,000ft with an experienced instructor who will be in control of the technical parts of your descent including parachute deployment and landing using a dual harness system.

Pros/Cons:
Inexpensive, safety with instructor, no technical worries & you're ground-to-sky in minutes!
Static Line Jump:
Training: 6 hours of ground training
Experience: Jump at 3,500ft, parachute deploys as soon as you leave the aircraft, steer down into landing area
Pros/Cons: More expensive, no freefall, lowest jump height, but you get to jump alone.
Accelerated Freefall:
Training: Intensive course requiring a full day's training before jumping
Experience: Jump assisted by two instructors holding on to you from 12,000ft
Pros/Cons: The most expensive option, but is part of the AFF qualification course
For first time jumpers we believe that tandem skydiving combines the best of freefall with value for money; you get to take the leap from 15,000ft with quick no-hassle training and jump with a highly experienced professional trained to the highest safety standards, with no worries about the technicalities of skydiving – that's why we're the UK's leading tandem specialist skydiving center!