The UK's Specialist tandem skydiving centre just 60 minutes from the New Forest
The UK's specialist tandem skydiving centre just half an hour from New Forest. GoSkydive is the UK's only specialist first-time tandem skydive centre. Located in Salisbury on the central south coast just 30 minutes from New Forest, GoSkydive is your closest tandem skydiving centre. If you are travelling to us from New Forest by car our centre is easily accessible by the A338. At GoSkydive, customers from New Forest and across the UK are taken through a customer journey that cannot be matched by any other skydiving centre in the UK.
We are the only centre that specialises in parachute jumps for first time skydivers. But what does that mean? It means that we only do tandem skydives – you won't be competing for time and space with sports jumpers – the whole day is built around you and other first-time skydivers. We'll consider your travel time and try and get you booked in later in the day, we'll keep you updated with weather reports to, where possible, avoid unnecessary delays. There will be a briefing within 30 minutes of your arrival, you'll receive full training in a simulated environment and there will be a whole team of people on hand to support you at all times.
The view from the skydive in Salisbury to the New Forest is visible on clear days. Looking south towards the coast shows the New Forest flanked by the Solent to its east and the Isle of Wight to its south.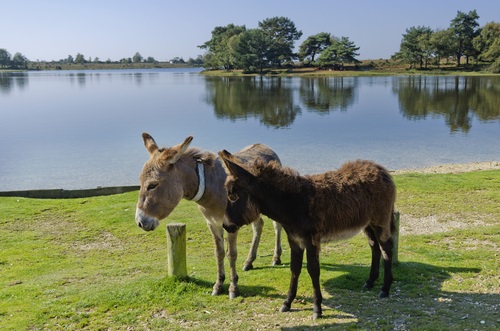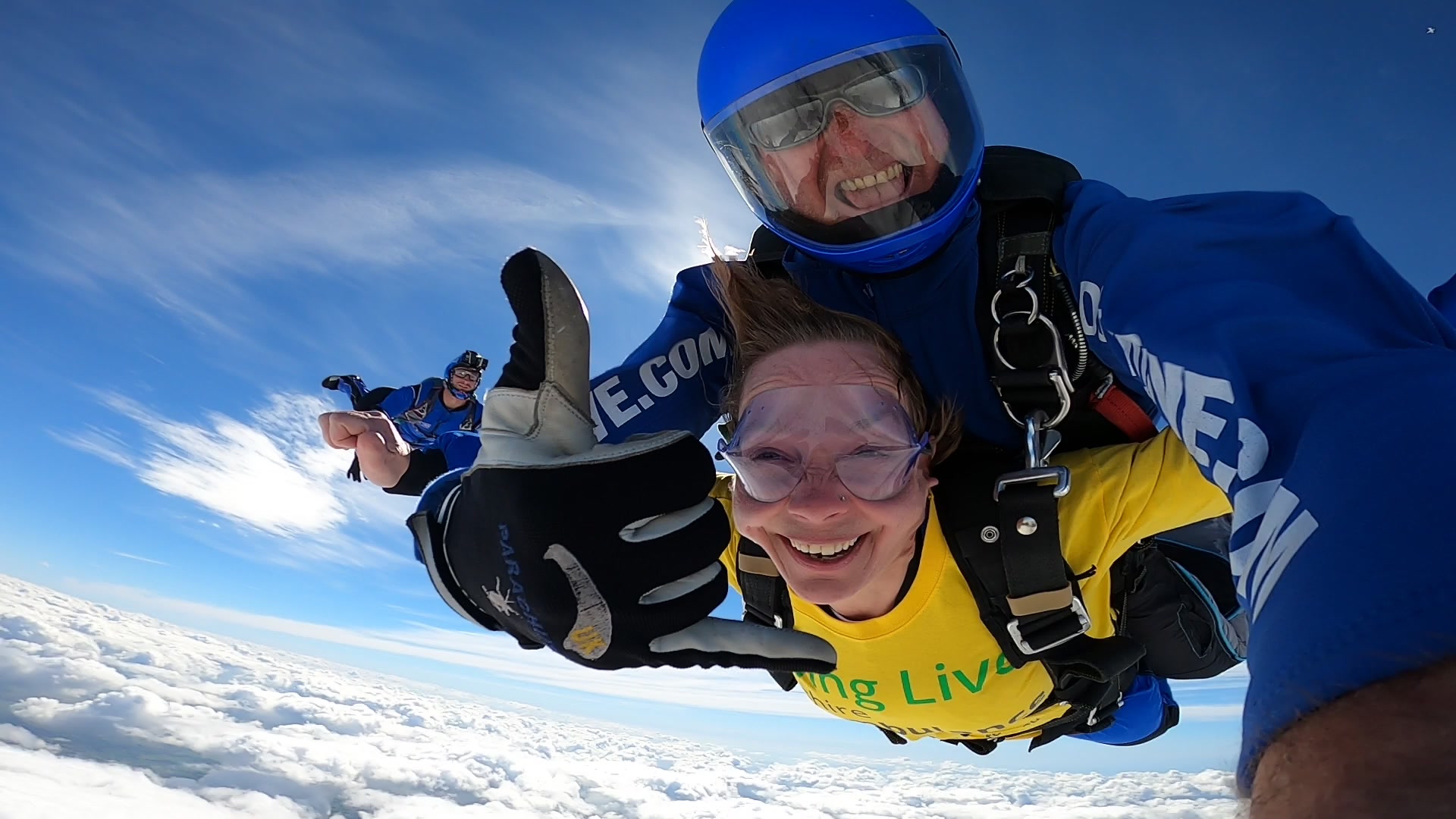 Charity Skydives New Forest
If you're thinking of a way to raise money for a good cause, tandem skydiving for charity is a great way to do it.
It is not only admirable that you are brave enough to jump out of a plane at 15,000 feet and that people give generously to your cause – but you also get to have the most amazing life-changing experience. Thousands of charity skydives are done by GoSkydive each year, and here's one – Zoe Ball's jump for MNDA.
In doing a tandem skydive for charity, you'll be doing something life changing that will attract people to sponsor your cause. A staggering half a million pounds was raised for good causes by GoSkydive in 2015, more than any other skydiving company in the UK.
Call Gaby in the charity team 01722 442967 or email charities@goskydive.com for more info on our charity affiliations.
Find out more about skydiving for charity.
Reviews
Tens of thousands of people have chosen to jump with us. Here's some of what they say!
Amazing experience, felt relaxed and safe throughout whole experience. Completed 15,000ft tandem jump with Henk as my instructor. It was awesome and he did a perfect job of showing me what to do and making sure I enjoyed the experience!!

Geoffrey P
Posted: 09/10/2022

Mine was a total surprise, I found out what I'll be doing half an hour before the jump. Had a huge adrenaline rush, who wouldn't be a bit nervous? 1st time.. and they took care of everything… So my message to anyone wanting to do this.. Relax and enjoy! Great team, great instructor, really organized, very clear instructions, good facilities on site. AWESOME EXPERIENCE!!! Absolutely recommend GoSkyDive.

Roxana H
Posted: 19/11/2022

The whole day. Every body was very friendly and helpful, my sky dive instructor Chas was brilliant, perfect day all round 👍

Oleary1979
Posted: 24/09/2022

Wow! What a experience that was. Absolutely mind blowing. George my instructor was amazing, made sure I had the best time and felt safe. Couldn't have asked for someone better than him. Ticked off my bucket list and onto the next. Thank you and will definitely do it again 🙂

krishxo
Posted: 29/09/2022

My sister got me a sky diving voucher for my birthday, I'm petrified of heights!! I went on my birthday with my sister. All the staff were lovely from start to finish. My instructor was called Henk, he was absolutely hilarious !!! He made the experience even better by being really up beat and funny! I wasn't even that scared! I would 10000 times do it again!! I'm still buzzing from it now!! Highly recommend even if your a scaredy-cat like me!! The best birthday present ever!!!!!!

304georgiep
Posted: 25/10/2022

Omg! The experience is indescribable. I am still on an adrenaline high ever since I jumped on 25th of Nov, 2022. This has to be one of the best experiences in my life. I would like to take time out to mention about my skydive instructor Mr. Henk Post. He calmed my nerves before and during the fall and was extreme fun. He is crazy, funny, and professional- all at the same time. And the Go Sky Dive team is incredibly fantastic, experienced, and hands-on- right from the forms to instructions to kit to the final jump. Definitely gonna recommend the team to all my friends and family! Gosh! Thank you so so much!! Love to Henk and the GoSkyDive team!!

HenaK1504
Posted: 13/12/2022

Absolutely incredible experience, one I feel absolutely honoured to have had. Myself and my partner did it together as a belated birthday present after various postponements for 1.5 years which Josh, the main person I had email contact with, was very accommodating. I was nervous for weeks in the lead up to it but the centre staff and my instructor, Alex, were absolutely fantastic. An experience of a lifetime, I want to go back for more!

BestGirlfriend101
Posted: 21/11/2022

First time doing a tandem from 10,000 foot at 55 scared anxious excited and every other feeling know to man fear of the unknown but wow amazing, fantastic brilliant experience and Alex my instructor was absolutely terrific made me fill at ease about everything couldn't wait to jump it ticked every box will definitely do 15,000 foot jump nothing to worry about the team at go skydive were professional caring and tentative throughout the whole of my experience well done and thank you

Peter Regan
Posted: 18/01/2022

This was my second charity skydive and it certainly didn't disappoint. The team are fantastic, helpful and talk you through the whole experience clearly. Had a great instructor Richard and camera guy! Would I do another one…..too right I would!

820jezw
Posted: 20/11/2022

I had a 10,000ft skydive giving me a 30 second freefall. The jump was one of the best experiences of my life, I absolutely loved it. Even after the parachute opened the thrill continued with stunts and amazing views over Wiltshire. I am glad I chose GoSkydive for my first ever jump, the team are awesome, very well organised, efficient, and super friendly. I loved that they were all genuinely excited for me and vey chatty. My instructor was called Mias and he made me feel very safe and he completed the whole experience. I opted for a free-fall photographer package which I thought was a bit pricey at the time, however, the video was ready within 1hr after my jump with a link emailed to me for downloading. The quality of the video was superb. When I seen the work that was involved in capturing my experience, I understood why it was so expensive. This is a video that I will watch repeatedly reliving this amazing day.

Gus W
Posted: 10/11/2022