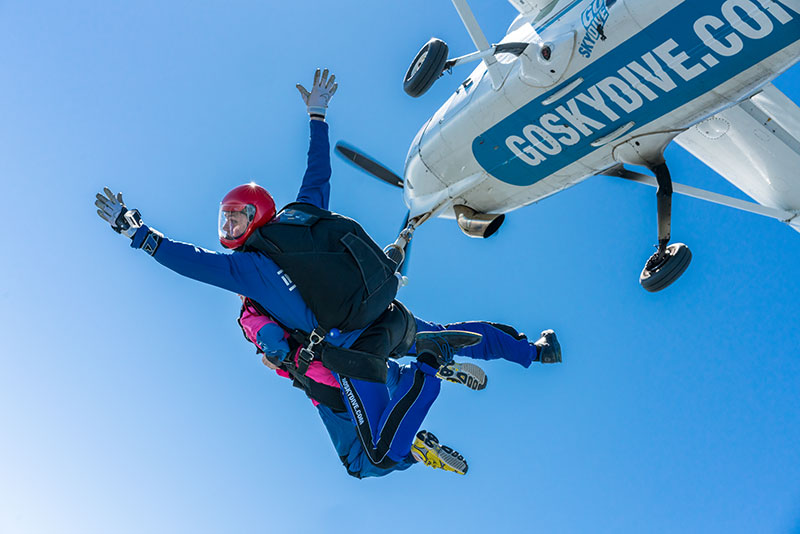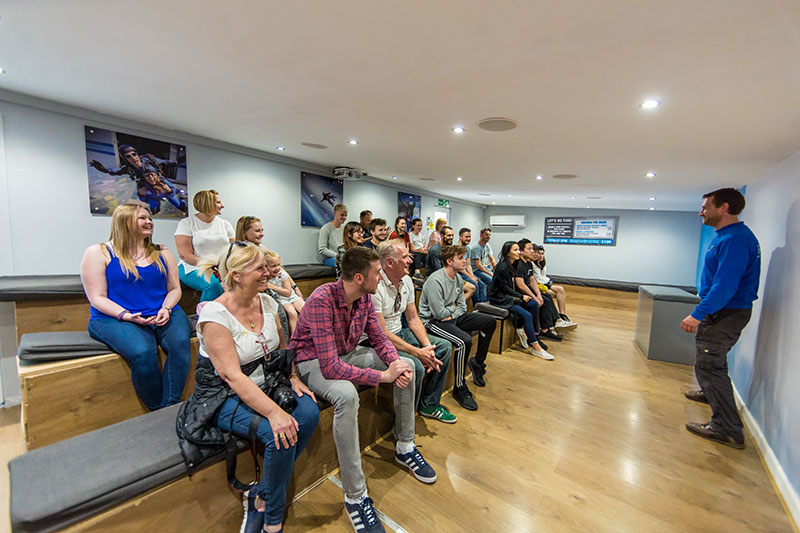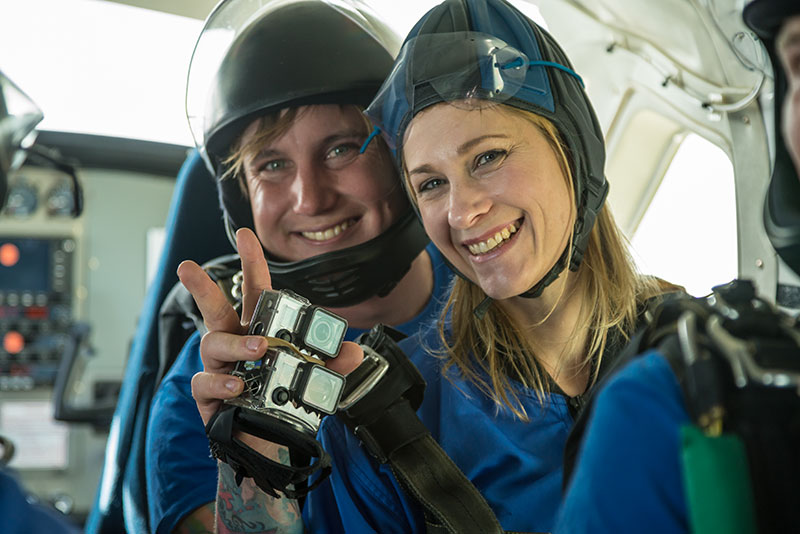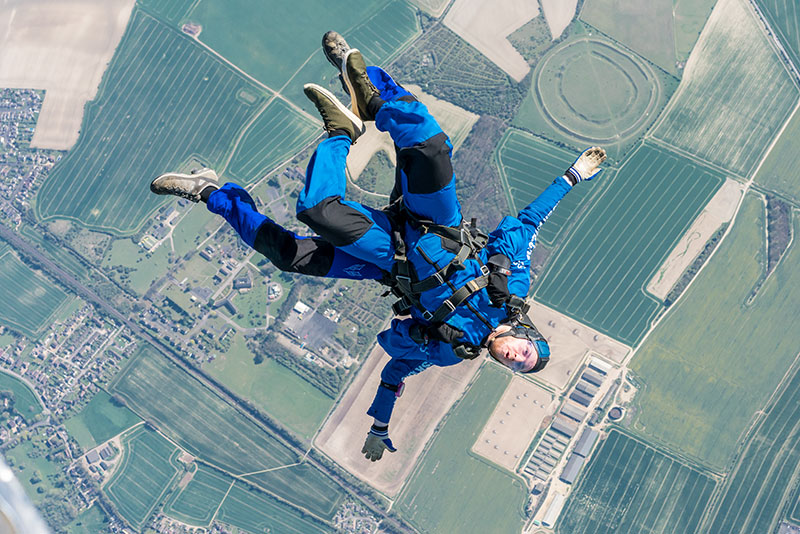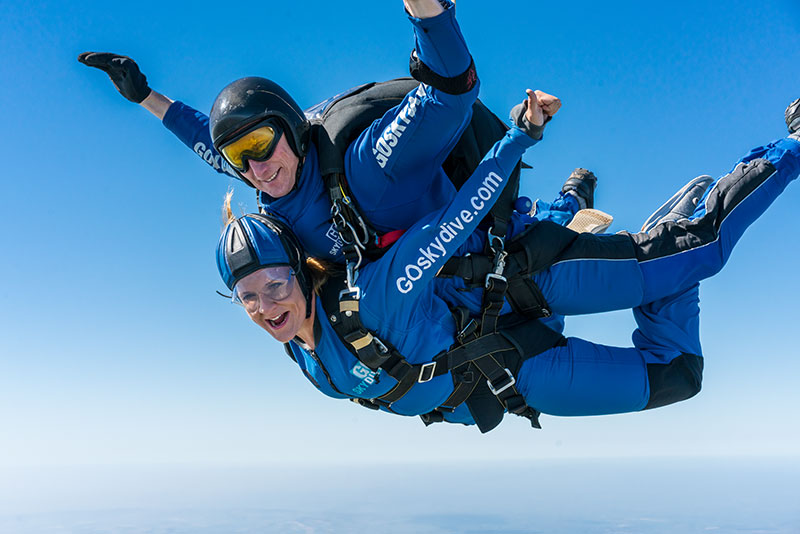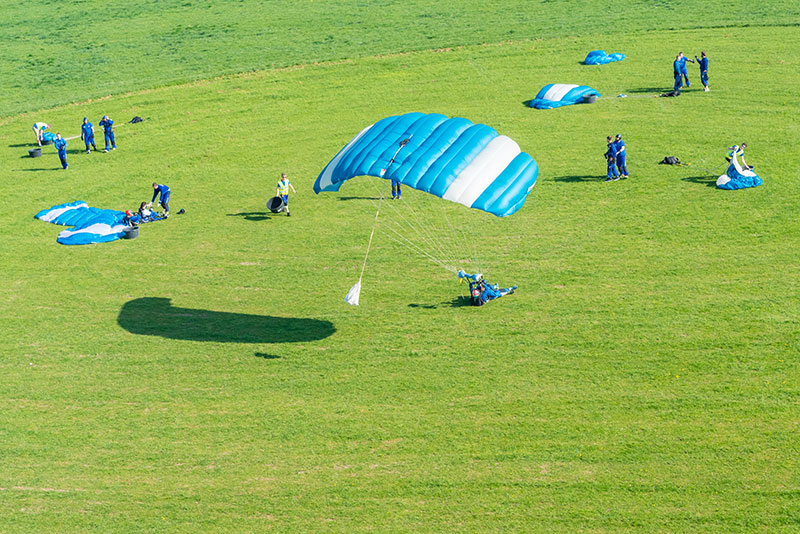 Most Popular
10,000
30 Seconds Of Freefall
£259
Only £50 deposit!
Our original tandem skydive and a great tandem skydive experience. This is a skydive from 10,000ft resulting in a 30 second ground rushing freefall experience. As part of each tandem skydive, you will enjoy the gorgeous views of prehistoric sites on the Salisbury Plains during the five-minute parachute ride.
We offer Flexible Payment options. Pay only £50 deposit and manage your booking online.
Save up to £25 per person by building your team. Invite friends and family to share the experience of a life time!
Jump altitude of 10,000 ft

30 seconds of freefall

5 Minute parachute ride

12 Minute flight

Skydivers must be aged Age 16+ on the day of their jump

Available at multiple locations
Jump Information
Skydiving from 10,000ft is our original tandem skydive and a great tandem experience. You get an exhilarating 30 seconds of freefall and a 5 minute parachute ride with views of the Salisbury Plain and Wiltshire countryside.
Availability
Available Thurs – Mon
Available Feb – Dec
On the day
ARRIVAL TIMES
Your arrival time will be determined at the time of booking and will be filled from the earliest time slot first. In order to complete your check-in and training, you must arrive on site by the arrival time. In light of the fact that skydiving is weather-dependent, we suggest allowing all day for your skydive experience.
SPECTATORS
We love having your supporters on-site to cheer you on, but when should they arrive for your skydive? It is suggested they arrive on site no later than 45 minutes after your arrival time. While you wait for you to take the leap, take advantage of our indoor and outdoor seating areas and café serving hot and cold food and beverages.
WHILE ON-SITE – WHAT WILL YOUR DAY LOOK LIKE?
Our Customer Experience Team will welcome you and direct you to the Check-In room once you arrive on site. Here you will complete all your paperwork digitally, so be sure to keep your Check-In ID handy (found on confirmation texts and emails). You should plan to spend between 3-5 hours here with us, but be prepared that the experience may take all day due to the weather.
A Customer Experience Team member will guide you through the process of your day in your induction. They will explain what will happen and when. Make sure you stay hydrated and eat during your time onsite.
Reviews
To read more reviews please visit our Reviews page.
First time doing a tandem from 10,000 foot at 55 scared anxious excited and every other feeling know to man fear of the unknown but wow amazing, fantastic brilliant experience and Alex my instructor was absolutely terrific made me fill at ease about everything couldn't wait to jump it ticked every box will definitely do 15,000 foot jump nothing to worry about the team at go skydive were professional caring and tentative throughout the whole of my experience well done and thank you
Peter Regan
I jumped with my team to raise money for Charity on Friday. Although the weather was rather rubbish in the morning, which meant we were delayed by 5 hours, it was well worth the wait. The team also kept us in the loop and we had some yummy sausage sandwiches in the cafe. I hate that I cannot remember the name of my tandem guy but he was amazing. Although there were some cheeky wind up merchants on the flight, he was super supportive and made me feel at ease. He made the experience magical as we did some fun spins and even flew through a cloud and saw a rainbow! When we landed I got a huge hug and he said how proud he was of how I did. The first time I jumped I had a camera but it was nice this time around to go without as I could focus on the experience and not the camera if that makes sense. This was my second skydive (8 years apart) and I can officially say I have the bug! I am now desperate to save up to get my licence. I think my instructors comment of 'Welcome to my office' whilst thousands of feet in the air probably did it. I cannot recommend this enough. Don't let your nerves put you off! It's super safe and you are in the best hands. Thank you Go Skydive! I will likely be seeing you again soon…
LivCooper
Omg! The experience is indescribable. I am still on an adrenaline high ever since I jumped on 25th of Nov, 2022. This has to be one of the best experiences in my life. I would like to take time out to mention about my skydive instructor Mr. Henk Post. He calmed my nerves before and during the fall and was extreme fun. He is crazy, funny, and professional- all at the same time. And the Go Sky Dive team is incredibly fantastic, experienced, and hands-on- right from the forms to instructions to kit to the final jump. Definitely gonna recommend the team to all my friends and family! Gosh! Thank you so so much!! Love to Henk and the GoSkyDive team!!
HenaK1504
This was my second charity skydive and it certainly didn't disappoint. The team are fantastic, helpful and talk you through the whole experience clearly. Had a great instructor Richard and camera guy! Would I do another one…..too right I would!
820jezw
Locations
Available at the following UK locations.
GoSkydive

Old Sarum Park, Old Sarum,
Salisbury SP4 6EB

GoSkydive

Swansea Airport, Southgate,
Swansea SA2 7JU