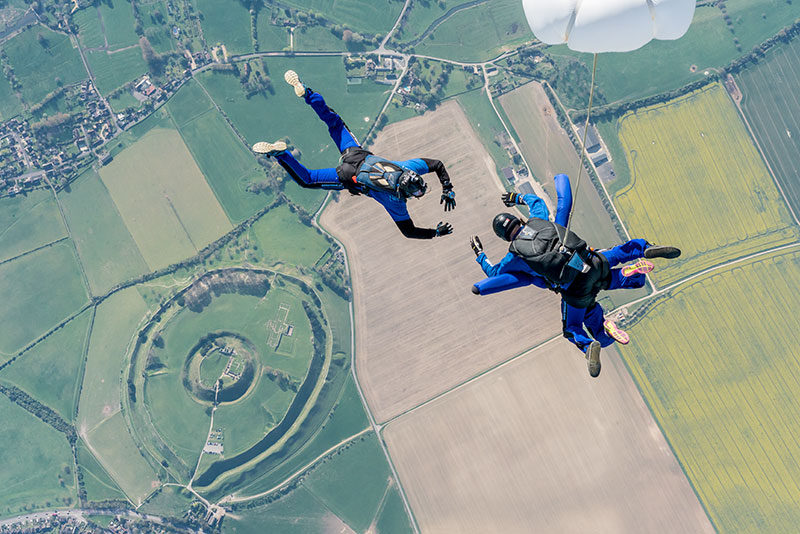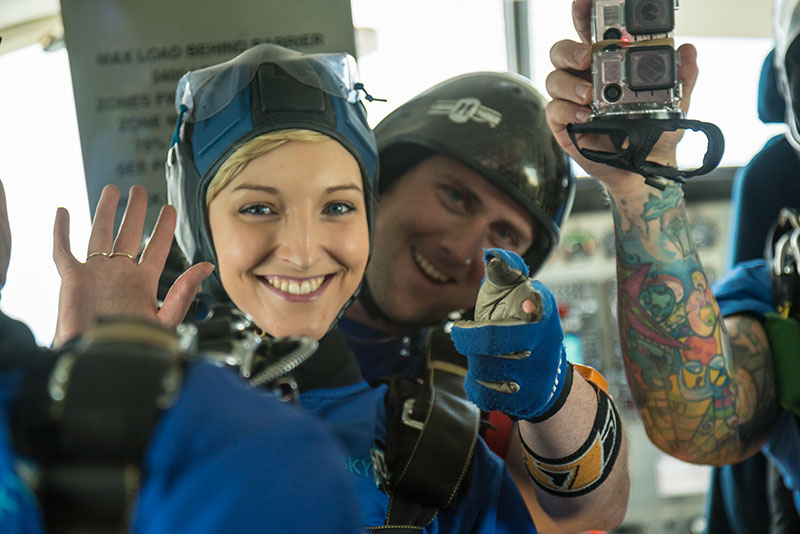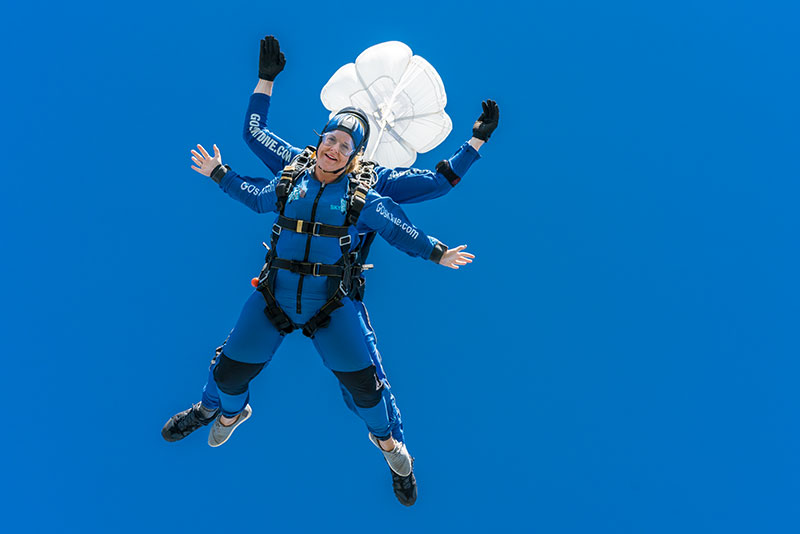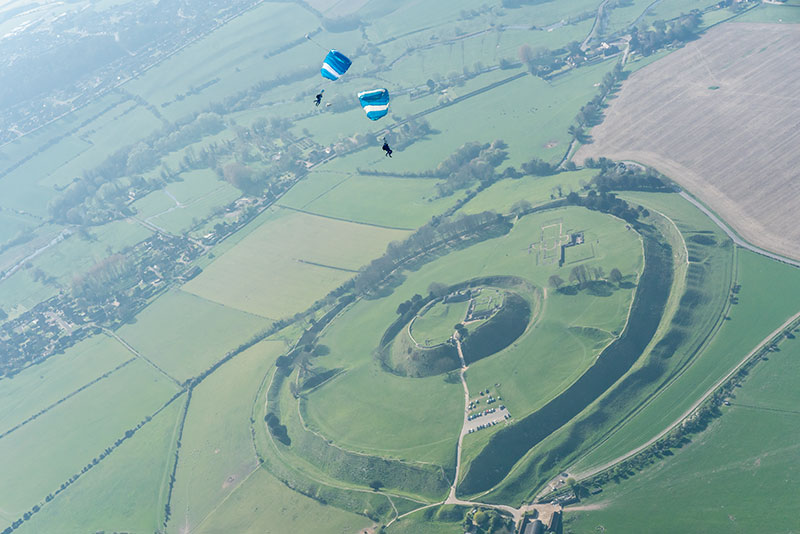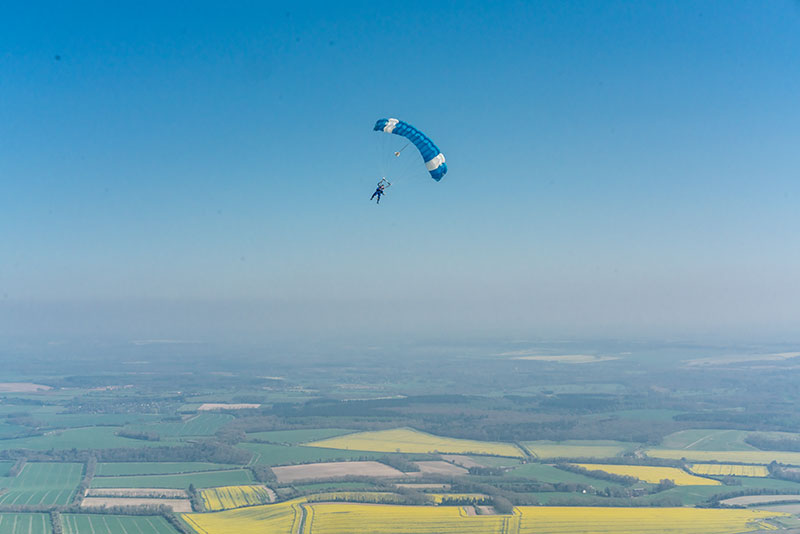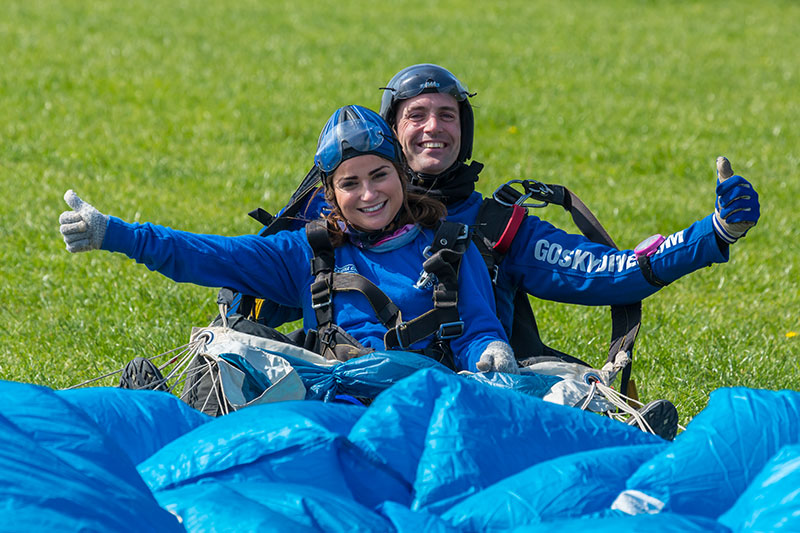 £69 Upgrade
15,000
60 Seconds Of Freefall
£328
Only £50 deposit!
A jump at the UK's highest altitude is available for just £69 extra. An altitude of 15,000 feet equates to almost a full minute of freefall. There's plenty of time to gather your senses and enjoy the skydive. This is the ultimate thrill for adrenaline junkies.
We offer Flexible Payment options. Pay only £50 deposit and manage your booking online.
Save up to £25 per person by building your team. Invite friends and family to share the experience of a life time!
The thrill of skydiving from the highest altitude in the UK

Jump altitude of 15,000 ft

60 seconds of freefall

5 Minute parachute ride

15 Minute flight

Skydivers must be aged Age 16+ on the day of their jump

Available only at multiple locations
Jump Information
Skydiving from 15,000ft is the highest you can go in the UK, giving you almost a full minute of high adrenaline freefall, reaching speeds of 125mph. It doesn't get better than this for action junkies.
Availability
Available Thurs – Mon
Available Feb – Dec
On the day
ARRIVAL TIMES
Your arrival time will be determined at the time of booking and will be filled from the earliest time slot first. In order to complete your check-in and training, you must arrive on site by the arrival time. In light of the fact that skydiving is weather-dependent, we suggest allowing all day for your skydive experience.
SPECTATORS
We love having your supporters on-site to cheer you on, but when should they arrive for your skydive? It is suggested they arrive on site no later than 45 minutes after your arrival time. While you wait for you to take the leap, take advantage of our indoor and outdoor seating areas and café serving hot and cold food and beverages.
WHILE ON-SITE – WHAT WILL YOUR DAY LOOK LIKE?
Our Customer Experience Team will welcome you and direct you to the Check-In room once you arrive on site. Here you will complete all your paperwork digitally, so be sure to keep your Check-In ID handy (found on confirmation texts and emails). You should plan to spend between 3-5 hours here with us, but be prepared that the experience may take all day due to the weather.
A Customer Experience Team member will guide you through the process of your day in your induction. They will explain what will happen and when. Make sure you stay hydrated and eat during your time onsite.
Reviews
To read more reviews please visit our Reviews page.
Wow! What a experience that was. Absolutely mind blowing. George my instructor was amazing, made sure I had the best time and felt safe. Couldn't have asked for someone better than him. Ticked off my bucket list and onto the next. Thank you and will definitely do it again 🙂
krishxo
I had a 10,000ft skydive giving me a 30 second freefall. The jump was one of the best experiences of my life, I absolutely loved it. Even after the parachute opened the thrill continued with stunts and amazing views over Wiltshire. I am glad I chose GoSkydive for my first ever jump, the team are awesome, very well organised, efficient, and super friendly. I loved that they were all genuinely excited for me and vey chatty. My instructor was called Mias and he made me feel very safe and he completed the whole experience. I opted for a free-fall photographer package which I thought was a bit pricey at the time, however, the video was ready within 1hr after my jump with a link emailed to me for downloading. The quality of the video was superb. When I seen the work that was involved in capturing my experience, I understood why it was so expensive. This is a video that I will watch repeatedly reliving this amazing day.
Gus W
My sister got me a sky diving voucher for my birthday, I'm petrified of heights!! I went on my birthday with my sister. All the staff were lovely from start to finish. My instructor was called Henk, he was absolutely hilarious !!! He made the experience even better by being really up beat and funny! I wasn't even that scared! I would 10000 times do it again!! I'm still buzzing from it now!! Highly recommend even if your a scaredy-cat like me!! The best birthday present ever!!!!!!
304georgiep
Mine was a total surprise, I found out what I'll be doing half an hour before the jump. Had a huge adrenaline rush, who wouldn't be a bit nervous? 1st time.. and they took care of everything… So my message to anyone wanting to do this.. Relax and enjoy! Great team, great instructor, really organized, very clear instructions, good facilities on site. AWESOME EXPERIENCE!!! Absolutely recommend GoSkyDive.
Roxana H
Locations
Available at the following UK locations.
GoSkydive

Old Sarum Park, Old Sarum,
Salisbury SP4 6EB

GoSkydive

Swansea Airport, Southgate,
Swansea SA2 7JU