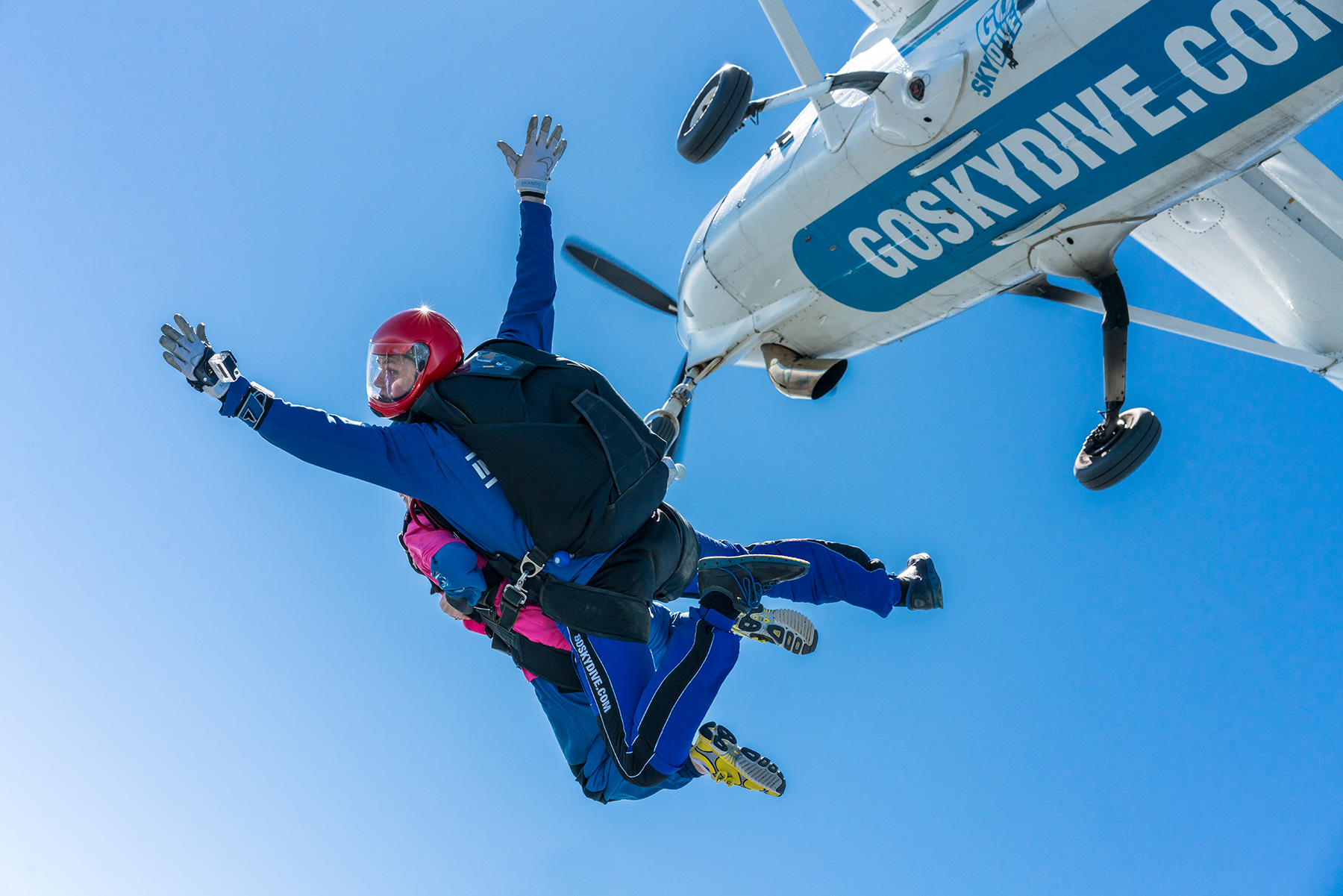 Skydiving has a positive impact on mental health say tandem skydivers
09 Feb 2021
In early 2021, GoSkydive, Tandem Skydiving specialists surveyed 320 customers who have jumped over the past 3 years. GoSkydive are open and taking bookings, but not jumping at the moment.
The results of the survey were really positive and confirm many findings online relating adrenaline, serotonin and dopamine improvements following a tandem skydive. Research published in the journal Biological Psychology, states that both the sex hormone testosterone and the stress-related hormone cortisol increase in anticipation of a tandem skydive.
86% of customers felt more confident in everyday life following their skydive. This is comprehensible, if you can jump out of a plane from 7,000ft – 15,000ft, other challenges in every-day life feel a lot more manageable. Bill Bailey, who jumped with GoSkydive twice in 2020 went on to win Strictly Come Dancing.
94% of customers said the skydive had a positive impact on their mental health. GoSkydive said "Self-confidence in jumpers can last for months following a skydive".
81% of customers who jumped from 7,000ft / 10,000ft wished they jumped from a higher altitude. GoSkydive has the highest UK altitude which is 15,000ft.
96.91% of customers who jumped in the summer of 2020 rated GoSkydive covid precautions as 5/5* More info: https://www.goskydive.com/weve-been-very-busy-here-at-goskydive/
Carl Griffiths – Marketing Manager GoSkydive said "the sense of achievement you get completing a tandem skydive is amazing. There is a reason a tandem skydive is part of lots of peoples bucket lists. Our guests always say it's the best thing they have done."
Fleur Smith – GoSkydive customer said "Skydiving changed my outlook on life, my mental health and so much more. If you're thinking about it bite the bullet and do it. You won't regret it I promise. It's helped me so much and I can't wait to be jumping again in the future."
One customer said "I did my jump for charity and didn't realise that not only was I able to raise money for a good cause but also the positive impact that it would have on me personally, it was an amazing experience and a real achievement that I would love to do again."
Another GoSkydive customer said "Doing a skydive with GoSkydive was one of the best experiences of my life! Really has improved my confidence as I was able to conquer my fears of heights! Can't put into words how amazing the feeling of skydiving was and how much I can not wait to be able to do it again!"
One partner of a tandem skydiver commented "I bought this for my partner it's something he's always wanted to do and suffers with depression he said it made him feel on top of the world literally he's never felt such happiness like he did doing this it's helped him alot thank you so much."
There is lots of uncertainty regarding holidays abroad, tandem skydiving could be considered the ultimate staycation activity this summer. With 3 national lockdowns, people working from home, gym closures, mental health issues increasing, a tandem skydive could be the best way to do something amazing and see the world from a birds-eye view in 2021.