About Albion in the Community
Who We Are:
We are the official charity of Brighton & Hove Albion Football Club. We are committed to using the power of football and the brand of Brighton & Hove Albion to deliver high-quality, accessible opportunities that improve the health and wellbeing, education and aspirations of our community.
What We Do:
At Albion in the Community we believe that football is for everyone, regardless of their age, ability or background. From after school clubs and holiday soccer schools, to walking football and disability teams, we will have a football session for you. Our health team works across Sussex to improve the health and wellbeing of people of all ages, abilities and backgrounds. Together with local authorities, the NHS and third sector partners, we run a wide range of targeted health projects and initiatives throughout the county. The disability department at Albion in the Community has been running our award-winning disability programme since 1997. We now run 30 different regular football sessions for people with a disability, which are attended by more than 250 people.
Why We Need You:
We need your help to continue our success story. So far, our supporters have helped us achieve:
We delivered 60 projects to more than 30,000 people over the last 12 months.
We won the Best Community Scheme at the Football Business Awards.
Our Premier League Kicks program is among the largest in the country, providing free weekly football to more than 2,000 young people.
We worked with 129 schools across Sussex.
Almost 5,000 children benefited from expert coaching from our coaching team.
More than 250 people regularly attended one of our football sessions for people with a disability.
Our Speak Up Against Cancer team gave potentially life-saving information to more than 17,000 people in Brighton and Hove.1,145 pupils benefited from football-themed numeracy and literacy lessons.
Jump Dates
Choose a pre-booked jump date:
Albion in the Community has no pre-booked jump days. You can still jump on a date of your choosing.
Choose your own jump date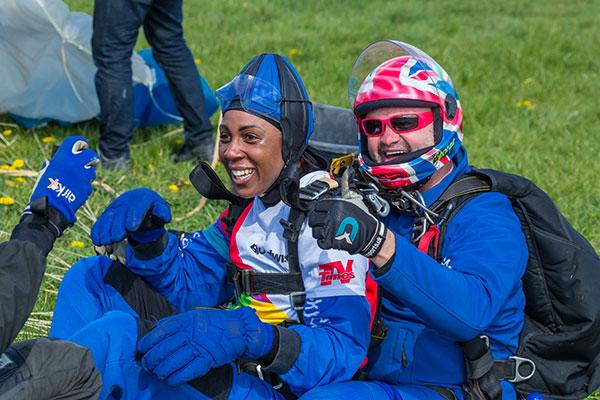 Fundraising
Raising money for your tandem skydive via an online fundraising page makes it quick and simple for your friends and family to support you. You can share the link to your fundraising page via your social media pages and through texts and emails. If you haven't done so already click through now and set-up your page or check out our Fundraising Ideas page to help you get the most out of your Charity Skydive.
How it works
Booking a charity jump
If you need help putting together your jump package, our Sales Team is more than happy to assist you. We'll ensure you get a charity discount of £25 off our 10,000ft or 15,000ft skydives when your charity is selected. Determine if your charity expects you to meet a fundraising target or if you will be self-funding the skydive.
You're all set to start fundraising once you've booked your skydive! Your charity can help you with fundraising, and we'll be available to answer any questions you have about the skydive!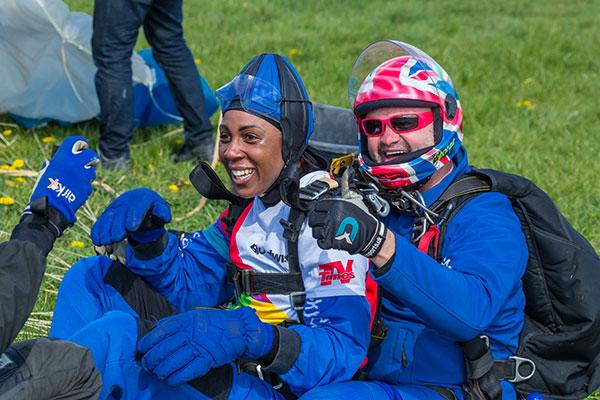 Step 1
Build your team
Skydiving is even more exhilarating when shared with friends, why not invite your friends and family and create a shared experience with memories that will last a lifetime.
Step 2
Select Your charity
Choose one of our 300 registered charities or jump in support of your own charity. Each registered charity will state if they will contribute to some of your jump cost or if you need to self-fund your own place.
Step 3
Book your Skydive
Book individually or as a group with just a £50 deposit per person. Some of the charities we work with have reserved spaces on pre-booked days that you are more than welcome to join. See our date picker tool below.
Step 4
Start fundraising
OK you're all set - We recommend you set up an online fundraising page as all funds you raise will automatically go to the charity of your choice.