About Syria Relief
Who We Are:
Syria Relief was established in 2011 in response to the beginning of the Syrian crisis. Overwhelmed by the rapidly increasing disaster unfolding in Syria, a group of friends of Syrian heritage came together in order to provide emergency humanitarian aid, for what was initially assumed would be a short-term outreach. Syria Relief had to adapt and swiftly expand to create a multitude of programmes to cater to the crucial needs within Syria, such as, education centres and food aid. Syria Relief has a solid network of committed management and logistics staff on the ground inside Syria – currently numbering at around 1,700. These connections mean we can deliver vital and efficient support to hard-to-reach rural and besieged areas. Due to working in a war zone, we are constantly facing new challenges, having to adapt and grow daily to achieve our goals. Despite these hurdles, with the support of our donors, fundraisers and volunteers, we are proud to have succeeded to aid millions of Syrian civilians. Syria Relief is now one of the UK largest charities that deliver aid to Syria.  We now deliver projects for organisations such as SAVE THE CHILDREN, CARE, UN and many more serving humanity together.
What We Do:
We are now at the forefront of non-profit support on the ground in Syria, covering unique and critical areas, from specialist psychiatric treatment for children suffering from PTSD to prosthetic limb clinics. We specialise in children's and orphan's education. We manage and run over 47 schools in Syria. Syria relief provides employment training courses and shelter programmes.
Why We Need You:
Syria Relief's is determined to 'relieve the suffering and support their future'; we provide this support and care to the 7.6 million people who are internally displaced by the conflict. We directly aid civilians and displaced communities while providing the tools and training to help them become self-sufficient; giving them the hope to survive within a war zone. Syria Relief is one of the UK largest Syrian focused charities, within 7 years we have grown to a charity that raises over 20 million pound a year.
Jump Dates
Choose a pre-booked jump date:
Syria Relief has no pre-booked jump days. You can still jump on a date of your choosing.
Choose your own jump date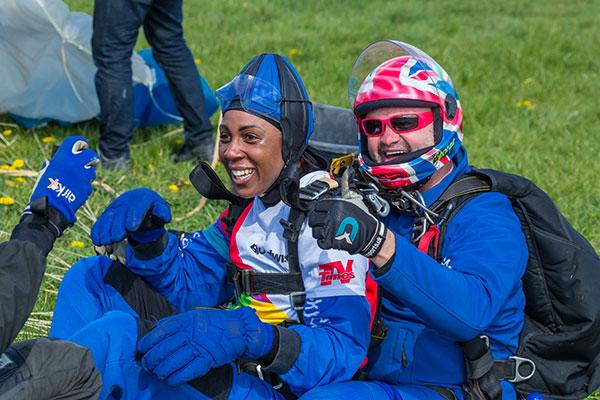 Fundraising
Raising money for your tandem skydive via an online fundraising page makes it quick and simple for your friends and family to support you. You can share the link to your fundraising page via your social media pages and through texts and emails. If you haven't done so already click through now and set-up your page or check out our Fundraising Ideas page to help you get the most out of your Charity Skydive.
How it works
Booking a charity jump
If you need help putting together your jump package, our Sales Team is more than happy to assist you. We'll ensure you get a charity discount of £25 off our 10,000ft or 15,000ft skydives when your charity is selected. Determine if your charity expects you to meet a fundraising target or if you will be self-funding the skydive.
You're all set to start fundraising once you've booked your skydive! Your charity can help you with fundraising, and we'll be available to answer any questions you have about the skydive!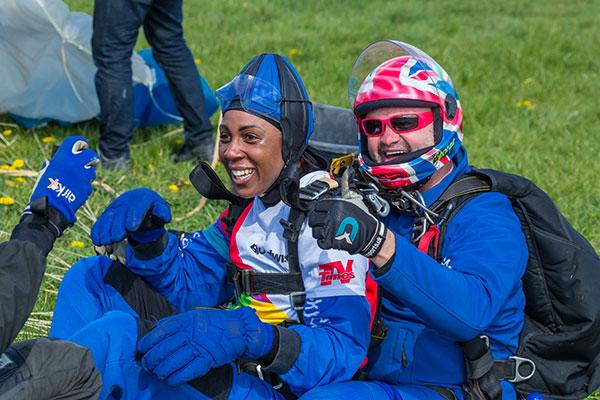 Step 1
Build your team
Skydiving is even more exhilarating when shared with friends, why not invite your friends and family and create a shared experience with memories that will last a lifetime.
Step 2
Select Your charity
Choose one of our 300 registered charities or jump in support of your own charity. Each registered charity will state if they will contribute to some of your jump cost or if you need to self-fund your own place.
Step 3
Book your Skydive
Book individually or as a group with just a £50 deposit per person. Some of the charities we work with have reserved spaces on pre-booked days that you are more than welcome to join. See our date picker tool below.
Step 4
Start fundraising
OK you're all set - We recommend you set up an online fundraising page as all funds you raise will automatically go to the charity of your choice.