About The Dash Charity
Who We Are:
We are a small charity, established in 1976 (formerly known as Berkshire East and South Bucks Women's Aid).  For the past four decades we have been providing practical and emotional support for victims of domestic abuse in the communities of the Royal Borough of Windsor and Maidenhead (RBWM), Slough and South Buckinghamshire.  We are known and recognised locally as experts in delivering timely, holistic and appropriate services, able to "reach out" to women, men and children who, without our existence, would not have access to the support they need.
What We Do:
Our overall aim is to break the cycle of domestic abuse and confront the barriers faced by victims of domestic abuse.
To provide support via a range of activities and services for victims of domestic abuse (women, children and men), who, as a result of their situation are vulnerable and disadvantaged.
To fracture and disprove established myths and stereotypes that justifies and/or excuse domestic violence and abuse and enables victims to recognise that they are not to blame.
HOW WE HELP VICTIMS OF DOMESTIC ABUSE:
Acting as an advocate gives people a "voice". Effectively, "breaking the silence", as many of our clients have been "silent" about the abuse for many years. For many of our clients, disclosure of domestic abuse is tough and complicated. Our work with them is a little like "peeling an onion". We find there are many layers of difficulties they need help and support with (e.g. emotional difficulties (fear, anxiety, depression, lack of confidence, low self esteems), health problems (drug and alcohol dependency, mental ill – health), financial difficulties, and ongoing criminal proceedings against their perpetrator. Their problems are frequently multiple and complex, intertwined and can often feel overwhelming. We support them to prioritise their difficulties.  Taking one step at a time to lessen the sense of being overwhelmed.
Our primary focus is in reducing the imminent and significant risk for people.
The support we provide is be-spoke, as although there are commonalities with domestic abuse, the impact of domestic abuse is unique to each person.
OUR CURRENT ACTIVITIES/SERVICES:
Advocacy and Outreach Support
Children and Young People's Team
3 refuges (safe houses) which can house up to 14 women and 18 children at any one time.
A dedicated telephone helpline
Therapeutic programmes for women/children and young people.
Our Freedom Project to help women develop confidence, new skills  and new  ways of thinking and behaving so they are more able to protect themselves and their children from domestic abuse.  Enabling them to move on with their lives.
Why We Need You:
Due to the nature of domestic abuse and the power and control which the perpetrator typically holds over their victim, sometimes for years, it's often very difficult for victims to "speak out" and get the support that they need.  Frequently, victims feel ashamed about what has happened to them and terrified of what the perpetrator may do to them if he or she finds out that they have sought help.
Domestic abuse can include a range of abusive behaviours, including psychological, physical, sexual, emotional, financial and coercive. In our experience, victims of domestic abuse have suffered from at least two of these behaviour s from their abuser, and often for a significant period of time prior to seeking help.
Jump Dates
Choose a pre-booked jump date:
The Dash Charity has no pre-booked jump days. You can still jump on a date of your choosing.
Choose your own jump date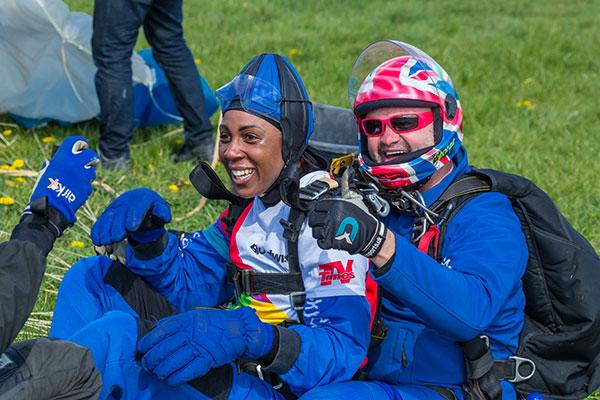 Fundraising
Raising money for your tandem skydive via an online fundraising page makes it quick and simple for your friends and family to support you. You can share the link to your fundraising page via your social media pages and through texts and emails. If you haven't done so already click through now and set-up your page or check out our Fundraising Ideas page to help you get the most out of your Charity Skydive.
How it works
Booking a charity jump
If you need help putting together your jump package, our Sales Team is more than happy to assist you. We'll ensure you get a charity discount of £25 off our 10,000ft or 15,000ft skydives when your charity is selected. Determine if your charity expects you to meet a fundraising target or if you will be self-funding the skydive.
You're all set to start fundraising once you've booked your skydive! Your charity can help you with fundraising, and we'll be available to answer any questions you have about the skydive!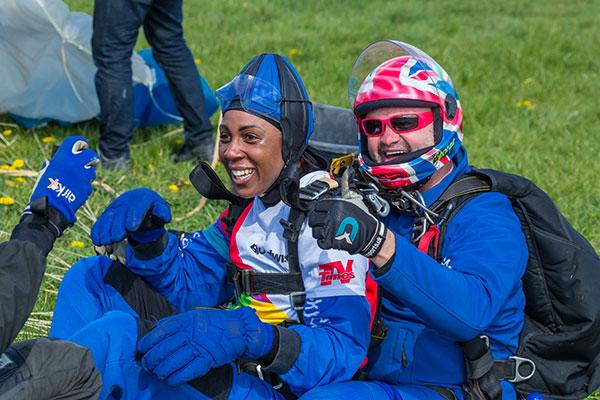 Step 1
Build your team
Skydiving is even more exhilarating when shared with friends, why not invite your friends and family and create a shared experience with memories that will last a lifetime.
Step 2
Select Your charity
Choose one of our 300 registered charities or jump in support of your own charity. Each registered charity will state if they will contribute to some of your jump cost or if you need to self-fund your own place.
Step 3
Book your Skydive
Book individually or as a group with just a £50 deposit per person. Some of the charities we work with have reserved spaces on pre-booked days that you are more than welcome to join. See our date picker tool below.
Step 4
Start fundraising
OK you're all set - We recommend you set up an online fundraising page as all funds you raise will automatically go to the charity of your choice.