Fundraising Target: £350 to jump from 10,000ft or £475 to jump from 15,000ft.
About Friends Of Picu
Who we are:
Friends of PICU is a registered charity that was set up in 2006 by parents of children who have been cared for on the Children's Intensive Care Unit at Southampton University Hospital, and nursing staff from the PICU. Friends of PICU aims to support the children and their families by providing vital equipment and services that are not always provided by the statutory authorities.
What we do:
Friends of PICU contribute to every part of the specialist care – no patient will pass through PICU without being helped in some way by equipment donated, the additional nursing training and education that the charity pays for, and the caring and considerate environment they have helped to create. All emergency patients that are retrieved by ambulance travel in a dedicated ambulance donated by FoPICU and any parent able to stay in on-site accommodation near to their child does so because FoPICU supports and maintains it.
Why we need you:
The charity is fundraising to renovate the in-hospital PICU parent and family accommodation. Parents and families deal with enormous stress when having a child in hospital, let alone worrying about where they might stay and how they will care for other children within their family. Providing the on-site accommodation, kitchen and waiting areas provides a sanctuary and lifeline to families. Parents are able to spend precious time, gathering their thoughts, resting their heads for some sleep, making refreshments, talking with their family, or spending time with their other children, knowing they are close to their child. The family area is in desperate need of improvement and is the charity's main project – to raise enough money to renovate this area, in addition to supporting other requests from the hospital.
Jump Dates
Choose a pre-booked jump date:
Friends Of Picu has no pre-booked jump days. You can still jump on a date of your choosing.
Choose your own jump date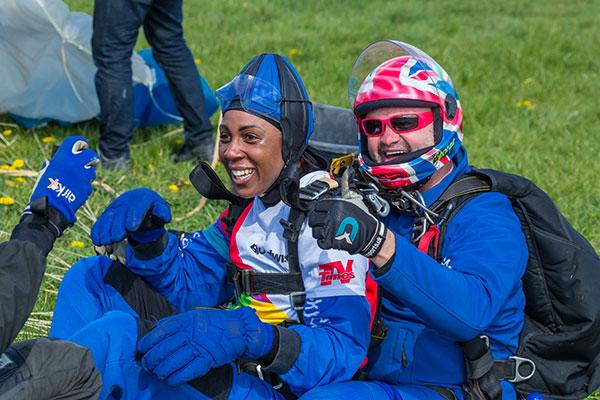 Fundraising
Raising money for your tandem skydive via an online fundraising page makes it quick and simple for your friends and family to support you. You can share the link to your fundraising page via your social media pages and through texts and emails. If you haven't done so already click through now and set-up your page or check out our Fundraising Ideas page to help you get the most out of your Charity Skydive.
How it works
Booking a charity jump
If you need help putting together your jump package, our Sales Team is more than happy to assist you. We'll ensure you get a charity discount of £25 off our 10,000ft or 15,000ft skydives when your charity is selected. Determine if your charity expects you to meet a fundraising target or if you will be self-funding the skydive.
You're all set to start fundraising once you've booked your skydive! Your charity can help you with fundraising, and we'll be available to answer any questions you have about the skydive!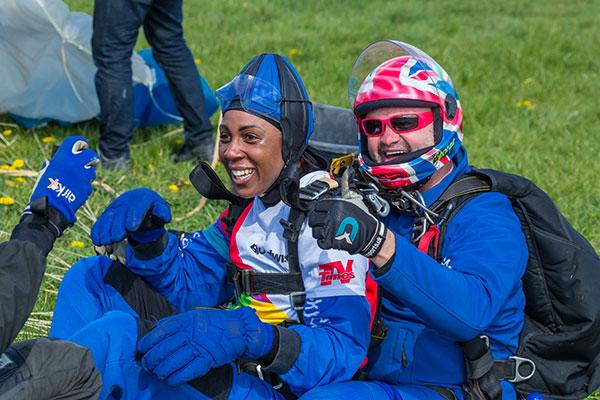 Step 1
Build your team
Skydiving is even more exhilarating when shared with friends, why not invite your friends and family and create a shared experience with memories that will last a lifetime.
Step 2
Select Your charity
Choose one of our 300 registered charities or jump in support of your own charity. Each registered charity will state if they will contribute to some of your jump cost or if you need to self-fund your own place.
Step 3
Book your Skydive
Book individually or as a group with just a £50 deposit per person. Some of the charities we work with have reserved spaces on pre-booked days that you are more than welcome to join. See our date picker tool below.
Step 4
Start fundraising
OK you're all set - We recommend you set up an online fundraising page as all funds you raise will automatically go to the charity of your choice.