£450 for 10,000ft or £550 for 15,000ft
About St Barnabas House
St Barnabas House is the hospice for the Worthing, Adur, Arun and Henfield areas. Thanks to support from the local community, adults with terminal illnesses and their loved ones can live life as fully as possible, for the time they have left together.
Specialist care is provided in people's own homes across the area, as well as in the hospice building in Worthing. For some, this might mean regular day visits to the hospice for social activities, physiotherapy, complementary therapy, exercise classes, spiritual support or counselling. Others might need to stay overnight for help managing complex physical symptoms, with a third of patients returning home more comfortable and relaxed after a short stay.
This same level of care reaches into people's homes, care homes and local hospitals with a wide range of caring professionals providing support out in the community.
And, when the time comes, St Barnabas House is there to support people at the end of their life so that they can die with dignity in a warm and caring environment of their choice.
The care of St Barnabas doesn't stop here, with families offered ongoing bereavement support and opportunities to come together at remembrance events.
It is thanks to the generosity of the local community that all of this is possible. It costs nearly £9 million every year to provide hospice care for local people. Most of this comes from fundraising, gifts in wills, shops, the St Barnabas House lottery and volunteering.
If you raise the minimum £450 (10,000ft) or £550 (15,000ft) in sponsorship then you can jump for free! This covers the remaining cost of the jump (£184 for 10,000ft and £253 for 15,000ft) and the remaining £266 from 10,000ft sponsorship or £297 from 15,000ft sponsorship comes straight to St Barnabas House. Everything you raise above £450/£550 will also come directly to St Barnabas House. We can't think of a better reason to have the experience of a lifetime, whilst raising vital funds for your local adult's hospice!
Jump Dates
Choose a pre-booked jump date:
St Barnabas House has no pre-booked jump days. You can still jump on a date of your choosing.
Choose your own jump date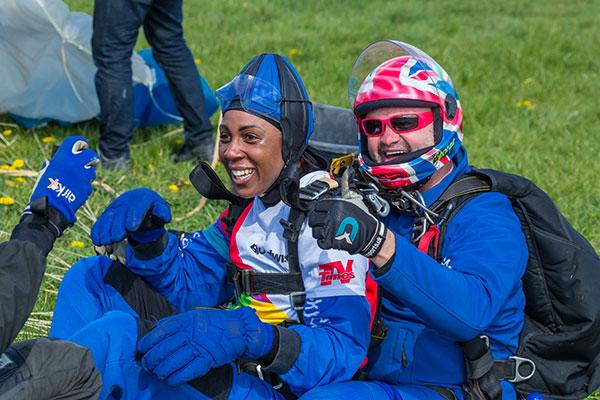 Fundraising
Raising money for your tandem skydive via an online fundraising page makes it quick and simple for your friends and family to support you. You can share the link to your fundraising page via your social media pages and through texts and emails. If you haven't done so already click through now and set-up your page or check out our Fundraising Ideas page to help you get the most out of your Charity Skydive.
How it works
Booking a charity jump
If you need help putting together your jump package, our Sales Team is more than happy to assist you. We'll ensure you get a charity discount of £25 off our 10,000ft or 15,000ft skydives when your charity is selected. Determine if your charity expects you to meet a fundraising target or if you will be self-funding the skydive.
You're all set to start fundraising once you've booked your skydive! Your charity can help you with fundraising, and we'll be available to answer any questions you have about the skydive!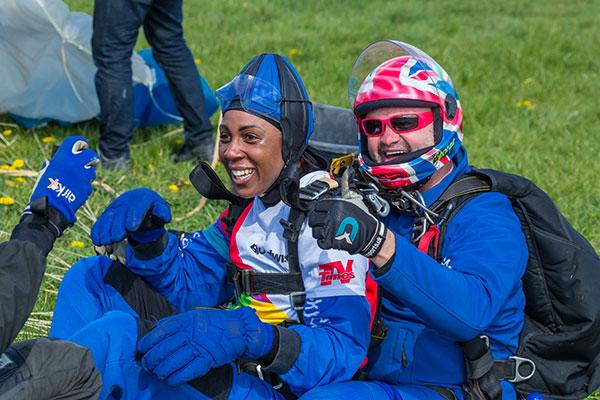 Step 1
Build your team
Skydiving is even more exhilarating when shared with friends, why not invite your friends and family and create a shared experience with memories that will last a lifetime.
Step 2
Select Your charity
Choose one of our 300 registered charities or jump in support of your own charity. Each registered charity will state if they will contribute to some of your jump cost or if you need to self-fund your own place.
Step 3
Book your Skydive
Book individually or as a group with just a £50 deposit per person. Some of the charities we work with have reserved spaces on pre-booked days that you are more than welcome to join. See our date picker tool below.
Step 4
Start fundraising
OK you're all set - We recommend you set up an online fundraising page as all funds you raise will automatically go to the charity of your choice.